If you're thinking about getting a divorce, the process can be overwhelming. The graphic below will help clarify the steps involved. For more information on our divorce services and how we can fight for you, visit our divorce services page. For any other questions, check out our Divorce FAQ.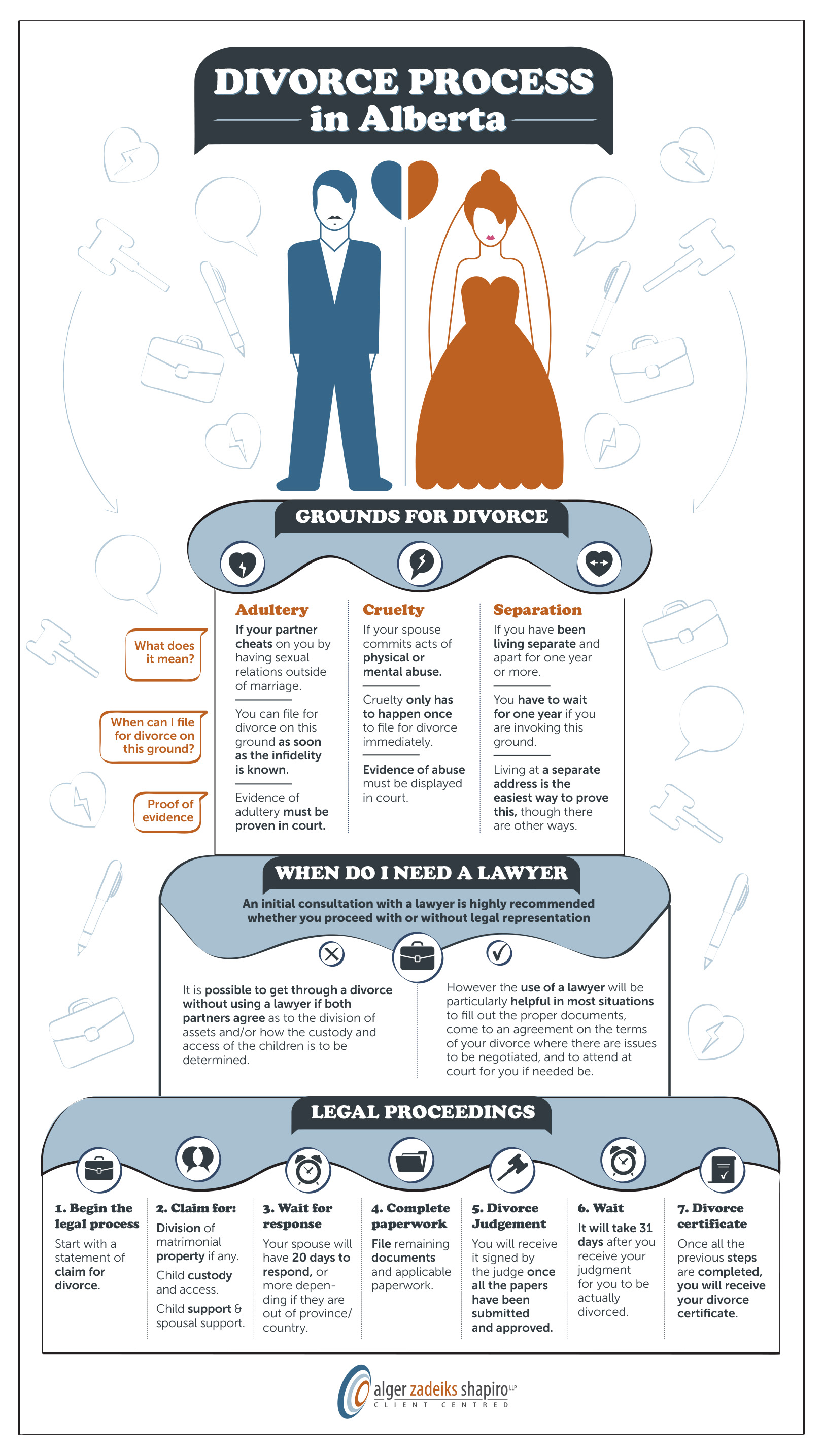 Divorce Process In Alberta
Grounds For Divorce
1. Adultery – If your partner cheats on you by having sexual relations outside of marriage. You can file for divorce on this ground as soon as the infidelity is known. Evidence of adultery must be proven in court.
2. Cruelty – If your spouse commits acts of physical or mental abuse. Cruelty only has to happen once to file for divorce immediately. Evidence of abuse must be displayed in court.
3. Separation – If you have been living separate and apart for one year or more. You have to wait for one year if you are invoking this ground. Living at a separate address is the easiest way to prove this, though there are other ways.
When Do I Need A Lawyer?
An initial consultation with a lawyer is highly recommended whether you proceed with or without legal representation.It is possible to get through a divorce without using a lawyer if both partners agree as to the division of assets and/or how the custody and access of the children is to be determined.However, the use of a lawyer will be particularly helpful in most situations to fill out the proper documents, come to an agreement on the terms of your divorce where there are issues to be negotiated, and to attend court for you if need be.
Legal Proceedings
Begin the legal process. Start with a statement of claim for divorce.
Claim for: Division of matrimonial property if any; child custody and access; child support & spousal support.
Wait for response. Your spouse will have 20 days to respond, or more depending if they are out of province/country.
Complete paperwork. File remaining documents and applicable paperwork.
Divorce judgement. You will receive it signed by the judge once all the papers have been submitted and approved.
Wait. It will take 31 days after you receive your judgement for you to be actually divorced.
Divorce certificate. Once all the previous steps are completed, you will receive your divorce certificate.
For any questions or for a consultation, contact us today!